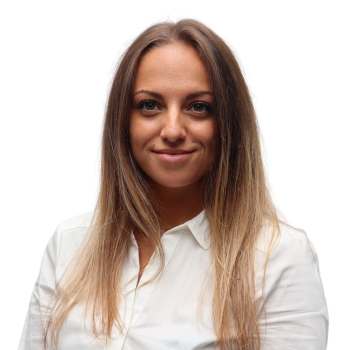 Project Manager
Gina Toppers
Started in 2017
E: g.toppers@bmclinical.com
M: +31 (0) 639 272 284

"The distinguishing factor of BMclinical is that we always go that extra mile for the customer. Thanks to the broad market knowledge of the entire BModesto Group and the great expertise within the Project Management team, we are always able to provide customers with the best solutions for their clinical research".
ABOUT GINA
Gina started working for the BModesto Group back in 2017. She started as a Sales & Purchase employee and later became part of the Inside Sales Team for BModesto, our parent company and a pharmaceutical wholesaler in The Netherlands. From the Inside Sales Department she moved to the BModesto Group's Regulatory Affairs team and worked as a Registration Coördinator. The Regulatory Affairs Department ensures that all products are repacked according to laws and regulations.
After working in several roles within the BModesto Group Gina joined BMclinical as a Project Manager. "Together with BModesto Group's flexible and dynamic commercial departments, we always look for the best solutions for the customer. The short lines between the departments make it possible to provide the best service offerings. Working in different roles and a variety of departments has given me a lot of knowledge and experience of the pharmaceutical industry and the entire process and supply chain. I enjoy using this all-round experience in my current work at BMclinical".
Gina enjoys going to the gym, loves to cook and going out with friends on regularly basis. She also likes to go out on citytrips in The Netherlands or abroad. She has Italian family and loves to visit the country. The authentic Italy where the nonnas make the pasta themselves during the afternoon, you eat with the whole family at one table and where everyone is 'famiglia'; that is where Gina feels at home!